Featuring Text, shapes and Clip Art this Simple CAD is made for ease of use and speed. Rotation, Mirroring and many things to come here!
Here is a screen shot, I'll be putting together some YouTube videos very soon!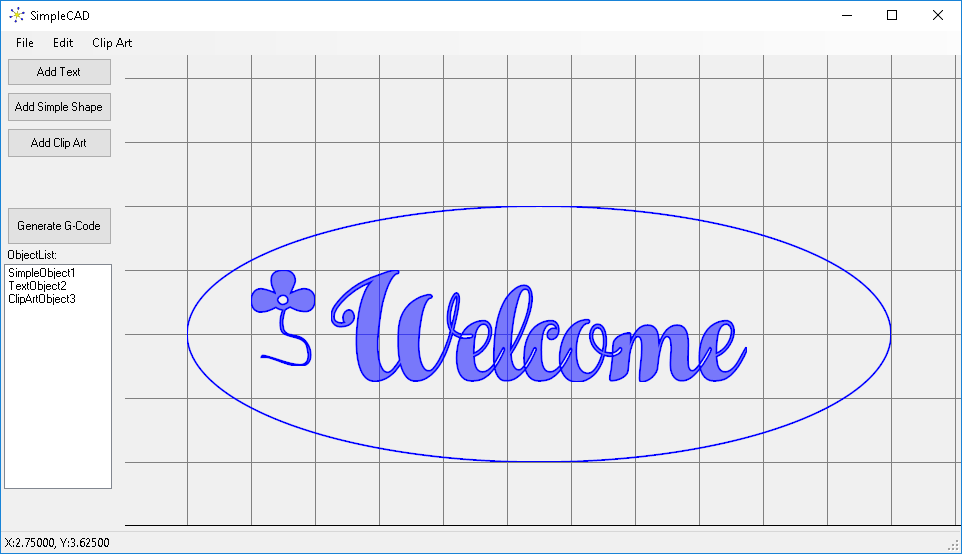 You can now create your own Clip Art from images!!!!
To try it go to Windows -> SimpleCAD
Create a canvas of your desired height and width.

Then set a clip art directory to store clip art to:
Clip Art -> Clip Art Settings and choose a folder to keep your library.

Then Clip Art -> Bitmap 2 Vector Import
This allows you to trace lines in pictures.
you may need to adjust the color band pass filter and look at the Filtered tab Once you get something good click Add filtered to final.
(If you didn't get everything no worries adjust more the band pass and then add it again) Also if there is a lot of tiny noise add to the Noise reduction box until you are satisfied!!!
Once everything is added to the Final, click on the final tab and if you don't like some artifacts, then start un checking the loops until satisfied!!!
The Export and you can add a new clip art catalog or add to an existing one. At that point you can add clip art into your simple cad!!!!